Basement/Crawl Space Encapsulation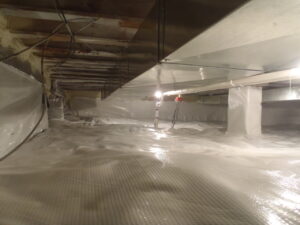 If you're experiencing cold floors above your Battle Creek, MI, area home's basement or crawl space along with high energy bills, then your basement or crawl space insulation might be failing.
Reasons You Want Basement or Crawl Space Encapsulation
Mold
Mildew/musty smell in basement or crawl space
Soft or separating floors
High cooling costs
Wet insulation
Sweating windows
Insect problems
Moisture can enter the basement or crawl space through outside air, the ground or through the foundation of your home if it doesn't have proper drainage. Encapsulation by Better World Builders not only helps stop the moisture that could be causing the growth of mold in your home, but can also lower your heating and cooling bills.
That's because in the summer, hot and damp air seeps up into your home and makes your air conditioner's job harder; and in the winter, cold air enters your home the same way and makes heating more expensive.
We offer Insulation and Encapsulation services to solve your basement and crawl space moisture problems because we know how important it is to have a comfortable and healthy Battle Creek, MI, area home. We at Better World Builders will make sure that the job is done efficiently and professionally.
For more information, contact us at (269) 383-7862 or request service online today!
Need Basement/Crawl Space Encapsulation?
Contact the experts at
Better World Builders.