Energy Recovery Ventilators
Do you ever feel like the air in your Battle Creek, MI, area home is stuffy, moist, or stale? Over the last 25 years, as building envelopes – meaning the design and construction of the exterior of the house – have become tighter, they also became less able to "breathe" on their own and need fresh air.
A heat or energy recovery ventilator, also known as an air exchanger, ensures that fresh air gets into your home while keeping in the heat. If you're like most Michiganders and spend a lot of time indoors in the winter, upgrading your home's ventilation system might be exactly what you're looking for.
There's one major drawback to homes that are tightly sealed: well-insulated homes affect indoor air quality (IAQ). With nowhere for the pollutants and contaminants in your home's air to go, they become trapped inside. Opening doors and windows is a good way to bring in fresh air, but doing so also creates more work for your HVAC system. It also allows in unwanted pollutants from the outside air.
The installation of a heat or energy recovery ventilator solves these issues. These units allow clean, fresh air to enter your home without causing fluctuations in temperature that can wreak havoc on your utility bills.
There are two types of ventilation units: an HRV, or heat recovery ventilator, and an ERV, or energy recovery ventilator. They are both designed to keep your home fresh and comfortable while keeping in most of the heat already in your home.
Think of them as the breathing system for your home: in with the good, out with the bad. They're relatively new to mainstream home construction and it's easy to get them confused, but there is at least one key difference.
HRVs and ERVs are very similar in that they both bring fresh outdoor air into your home and remove the stale air. The main difference is that HRVs use heat from the air being removed from your home to heat up fresh air coming into your home. It works the same way for cool air in the summer.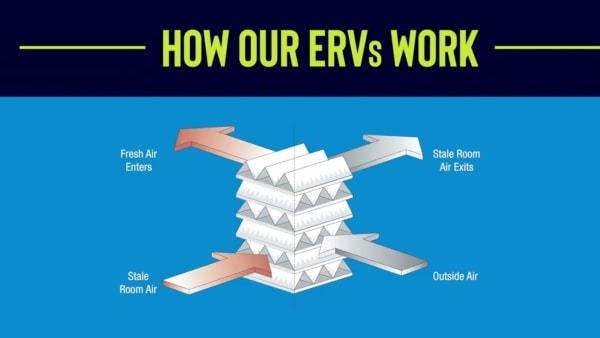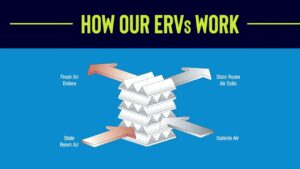 ERVs take things one step further: they transfer heat AND moisture, so you have the desired level of humidity inside, no matter what's going on outside. ERVs keep your heater and air conditioner from having to run as often, reducing wear and tear.
They also prevent contaminants from clogging air filters or causing other issues such as dirty or leaky ductwork. They can reduce inconvenient, costly breakdowns and keep your HVAC system working longer.
These systems are the most cost-effective and energy efficient way to ventilate a tightly built home and provide a fresh, healthy, and comfortable indoor environment. Both systems will provide comfort and health benefits year-round. The Better World Builders HVAC team can help you decide which one is the most beneficial in your home!
Rely on Better World Builders for the installation of your ERV or HRV Systems and always breathe in the fresh air! Our skilled crews will assist you in finding the right model and size for your Battle Creek, MI, area home and specific needs.
Benefits of an ERV/HRV System:
Reduces carbon emissions
Reduces utility costs
Improved indoor air quality
Constant supply of fresh air
Extends the life of your HVAC system
Retains heat that would normally be lost
Eliminates excess moisture
For more information, contact us at (269) 383-7862 or request service online today!
How RenewAire ERVs reuse energy
Need an Energy Recovery Ventilator?
Contact the experts at
Better World Builders.