An Infrared Imaging camera can see in the infrared spectrum and detect warm and cold heat signatures.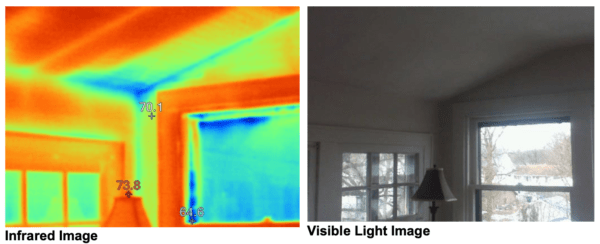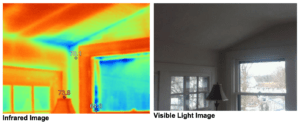 In home performance, this provides a determination about a home's efficiency level, or lack thereof.
Infrared Imaging detects temperature variations inside the walls and ceiling of a Portage, MI, area home or building. This information is useful for a variety of purposes:
Look for insufficient insulation in the attic.
Detect water leaks behind walls and in ceilings.
Find problems with electrical panels, such as hot spots in circuit breakers.
Check for air leaks in doors and windows.
Identify air leaks in AC ducts in the attic.
Infrared imaging is important because many of these problems can't be visually detected until they become big problems. Mold infestation, dangerous electrical conditions, and high utility bills, all point to an underlying issue. Infrared imaging is able to uncover hidden issues before they become catastrophic.
When Better World Builders perform an Infrared imaging scan, we evaluate every nook and cranny of the home to reveal invisible sources of energy loss. Some of the most commonly discovered sources of home energy loss include:
Hidden Indoor Air leaks
Hidden interior air leaks account for one of the largest energy loss sources in a home or building. When Better World Builders combines Infrared imaging with our Blower Door Testing, we can quickly locate these sources and notate them for interior air sealing when we conduct air sealing and insulation job. This is one of the most important steps in our Audits and Inspections because it ultimately will provide the best comfort for you, your loved ones and your home.
Insulation Issues
Insulation is designed to trap heat in the walls and attic of the home. Over time, however, fiberglass insulation settles and becomes less effective. Likewise, roof leaks, moisture issues, and rodent infestations can damage insulation, thereby diminishing its effectiveness.
Heating and Cooling
HVAC ductwork is notoriously inefficient. In fact, HVAC systems lose approximately 25% of their energy through ductwork! Air leaks caused by improperly sealed, damaged, or aging ductwork compound this loss. Additionally, dirty filters, aging equipment, and lack of maintenance further reduce the efficiency of your home's heating and cooling system.
These issues often go undetected and can lead to high utility bills, mold infestation, fire hazards, and more, if not remedied. Be informed about the efficiency and safety of your Portage, MI, area home. Have Better World Builders complete a Certified Home Performance Energy Audit which includes Infrared Imaging. For more information, contact us at (269) 383-7862 or request service online today!