Roof and Attic Inspection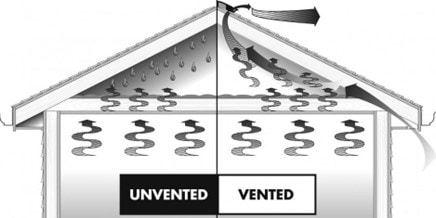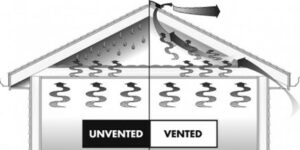 Ventilation is the most effective way to deal with humidity problems and avoid a buildup of moisture. Balanced air intake and exhaust in an attic space is important for keeping your home in good condition. When not done correctly, improper ventilation can cause a number of issues that can result in indoor air quality issues or expensive repairs of your Battle Creek, MI, area home's roof or ceilings.
Proper attic ventilation systems allow a continual flow of outside air through the attic, protecting the effectiveness of the insulation and help lower temperatures in the living spaces during the summer. During the winter, it will help prevent damaging icicles and ice dams.
Why You Want a Roof and Attic Inspection
You want to get the longest roof life from your shingles
You are concerned about buildup of mold causing moisture
Unsure if you have limited airflow
You see melting snow on your roof
You have icicles or ice dams
High energy bills
What Do We Do?
Investigate attic ventilation issues from inside the attic
Identify air leakage where large amounts of heat or conditioned air escape
Assess current insulation levels and conditions
Make insulation recommendations that will reduce the attic air temperature and prevent ice dams
Inspect roof for air leaks from the attic
Better World Builders will inspect the attic and roof decking for dry rot, water, moisture, mold, pest infestations and any indoor air contaminants, inspect the insulation, humidity and ventilation levels. We are experts at identifying where air sealing is needed as well as assessing the current attic insulation levels versus the necessary attic insulation levels for your particular home.
No two homes are the same and no two homes have the same requirements when it comes to your attic air sealing and insulation needs. You can be sure the Better World Builders Inspector will provide you with an inspection summary and performance recommendations to correct health, safety, comfort, durability and energy efficiency, making your roof, attic systems and home perform like new!
Call Better World Builders today here in the Battle Creek, MI, area at (269) 383-7862 or request service online to book your inspection! Looking to have your whole home audited instead? Check out the Better World Builders Certified Home Performance Energy Audit which includes a tax credit, plus the roof and attic inspection!
Need a Roof and Attic Inspection?
Contact the experts at
Better World Builders.