New Construction Blower Door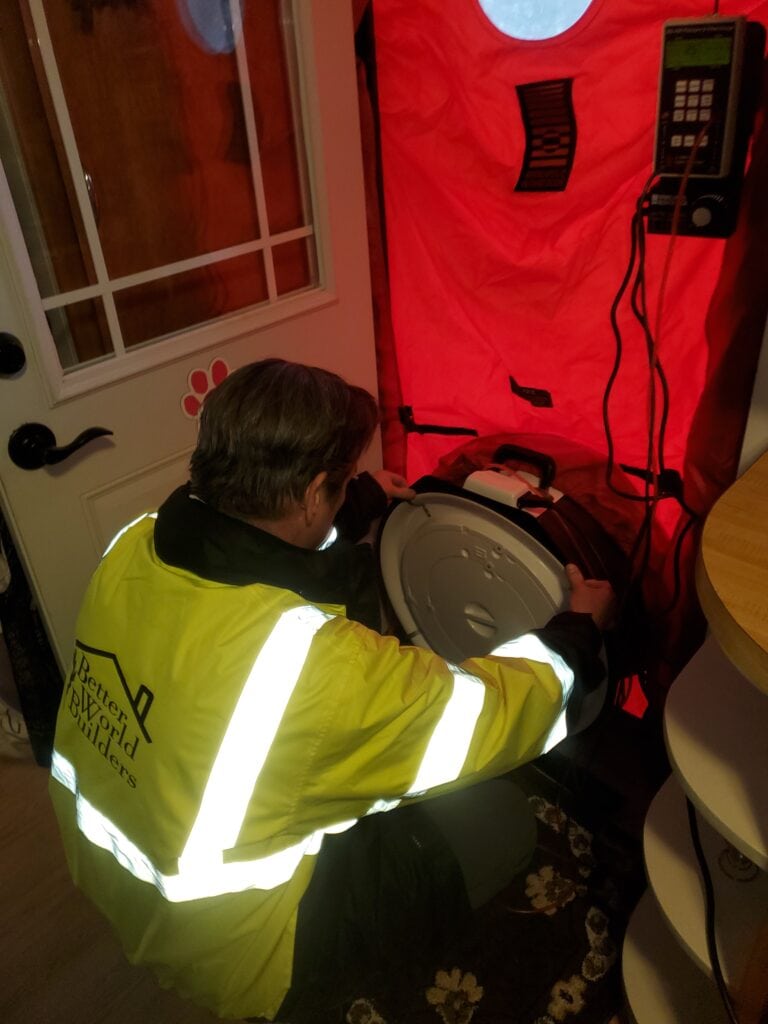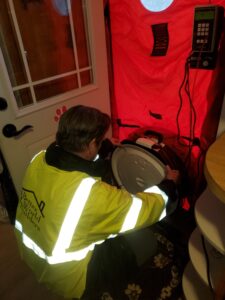 Blower Door Tests are required for new construction in order to receive Certificate of Occupancy after completion of the build in order to confirm the home meets all Michigan State code requirements.
What Is a Blower Door Test for New Construction?
Blower Door Test is a professional tool that measures how airtight a home is. Better World Builders are experts in Blower Door Testing and we perform this test on a daily basis for new construction, remodels and additions as well as part of our Certified Home Performance Energy Audits to measure air leakage throughout a Portage, MI, area home.
Blower Door Test equipment consists of a frame and flexible panel that fit in a doorway, a variable-speed fan, a pressure gauge to measure the pressure differences inside and outside the home, and an airflow manometer attached to hoses for measuring airflow. Once we get the output, Better World Builders will provide the report data to the General Contractor and Inspector of the project to comply with all Certificate of Occupancy regulations.
A new home is required to be at or below 4.00 ACH50 (air changers per hour with a blower door running at -50 pascals).   This test is an important part of building science.  A new home needs to be as airtight as possible and breathe in a controlled manner through mechanical ventilation.
If the home fails the Blower Door Test there are only two solutions to consider:
Improve the air sealing of the home.

 

Since blower door tests are done at the end of the project, air sealing can be difficult and expensive at this stage.
Move to the Simulated Performance Path in the Michigan Energy Code.

 

4.00 ACH 50 is a Prescriptive Path number in the energy code.

 

You can, in most cases, exceed 4 ACH50 if the entire home is being analyzed under the Simulated Performance Path in the code.

 

For more information on the Simulated Performance Path speak with your General Contractor and/or Home Inspector.
Reasons a Home Might Fail the Blower Door Test
A home may fail a blower door test if it is not air sealed properly. 4.00 ACH50 should be an easy number to reach for most new construction homes, however, some structures are harder to air seal and are more likely to fail the test.
Some Examples
Multi-family units with a common wall or multiple common walls have a high chance of failing the blower door test. Common walls are not usually sealed the same as exterior walls, making them more susceptible to air leaks.
Concrete slab homes on grade - Homes built on slab are more likely to have high leakage at the bottom sill plate.

 

The sill plate rests and is anchored to the concrete slab (on grade) and needs extra care when air sealing.
A Portage, MI, area home with a large cantilever/cold floor over unconditioned space, such as a large bonus room over a garage.

 

If the floor is not insulated or air sealed properly, it will surely add to the air leakage of the home.
For more information, contact us at (269) 383-7862 or request service online today!
Need a New Construction Blower Door?
Contact the experts at
Better World Builders.