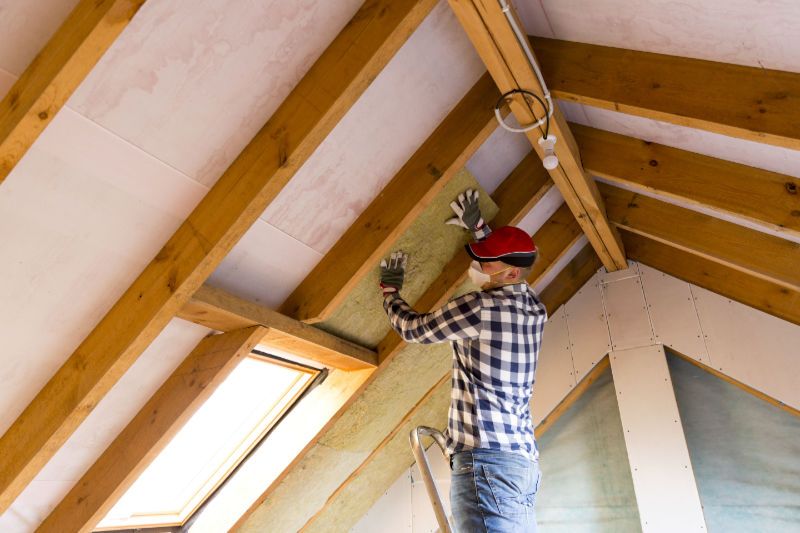 It's no secret that insulation can save you money here in Michigan. Adding new insulation to your attic, crawl space, and other parts of your home can cut down heating and cooling costs by 10 to 20 percent, according to the U.S. Department of Energy (DOE).
But what about the other parts of your home? Ceiling insulation is another valuable tool for energy savings. It's one of many energy services the Better World Builders team offers our customers in Kalamazoo and the surrounding communities. Call today to learn more.
Why Is Ceiling Insulation Important?
Did you know that heat rises? It's true! On a cold winter's day in Michigan, your furnace or heat pump disperses warm air via your ductwork, which exits into your living space through vents.
If cracks or poorly insulated spots exist in the ceiling, the heat will find them and escape. As a result, your heating unit will cycle more frequently to maintain the thermostat temperature.
A well-insulated ceiling helps your home stay warmer longer. That means lower utility bills and improved comfort.
What Types of Ceiling Insulation Are There?
Work with your Better World Builders energy services expert to find the best product for your home needs and budget. The following types of insulation can be installed:
Blown-In
Blown-in cellulose insulation is an economical option for weatherproofing your home. Your Better World Builders expert must drill holes in the stud gaps to install it. Then, your professional will use a hose to blow loose insulation pellets, which settle into spots where air escapes. It's a minimally invasive and simple way to insulate areas that are hard to access.
Batts and Rolls
Alternatively, you can opt for fiberglass batts and rolls. These rectangular bags fit snugly inside the spaces between the wood frames on your ceiling. Batts come in pre-cut sizes, whereas rolls can be divided into the length you need. This type of insulation is ideal for attics.
Retrofit Insulation

Retrofit insulation refers to retrofitting your home with insulation. It is the perfect solution for anyone with an older home that has too many drafty spots. 
What is R-Value?
The R-Value measures how well your insulation protects your home. The better insulation is at heat resistance, the higher its R-Value is.
The R-Value you need depends on the part of the country where you live. ENERGY STAR® designates eight different climate zones in the U.S. and its territories. Depending on your location, we recommend a value between R-30 and R-49 for attics and ceilings.
How Does the Installation Process Work?
First, your Better World Builders professional will perform a free consultation to determine the size and scope of the project. After we've assessed your Kalamazoo home, we'll provide you with an upfront estimate.
Installation may take one to two days, depending on your home needs. If you're replacing old insulation, we must remove it before installing or blowing the new product. Get in touch with us today––we're ready to find the perfect solution for your Michigan household.
Need Quality Home Insulation Services? Call Today.
Better World Builders is proud to serve our neighbors in Kalamazoo, MI and its surrounding areas. Call today at 269-383-7862 or request a service online.